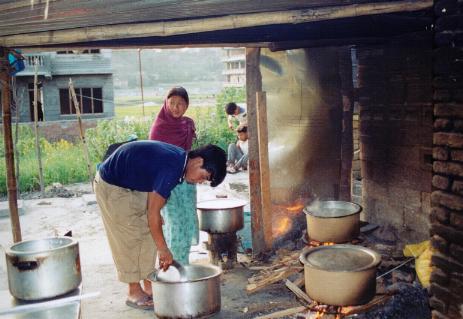 A Senior is having his haircut at side of the Kitchen
:As stated by Fr. James' mail, it took him two weeks to return back from his trekking to Tiplin Village.
He was accompanied by Dr. Sandra, Mr. Kevin and Dr. Granesh as well. The heavy snow on the way made them their trekking more strenuous. Dr. Sandra and his medical staff have consulted 500 patients within three days while Fr. James has visited 200 families.
It was said that Dr. Sandra broke down from exhaustion (Fortunately he seems to be in good recovery now).
A nursery school has been set up in a mountain area from which it takes two or three hours walk to reach Tiplin Village.
Around 150 children, mostly at the age of two or three, are in urgent need of care. So their mothers were brought to attend a one-week training course in Baniyatar village.
:Some women who have ever experienced in teaching knitting claimed to set up a center of knitting in Baniyatarvillage. They asked me whether or not it is possible to set up such a center. However, it is necessary to explore the potential market in Japan for the knit pieces before the establishment of the center.
On concerning this subject, I have made them be informed that we'd better make the decision according to sales estimation of the mufflers they brought back with them from Nepal in this coming Autumn's Bazaar.
:In May 12th, three Sisters of a convent came to help care the female dormitories. So we are able to hire one more home whereas the house rent is 11,000 Rupee only because this home is better equipped than the others. The Sisters expressed their demand of donation to Laligurans Club.
We have been informed by Laligurans Club that it is not be able to afford donation to us. But we are trying to look for other groups that are willing to donate our activities.
:A new school year has just opened in Inigo Students Home though litter progress was achieved yet. Now we are able to be in cooperation with Mr.Moti, manager of Katmandu branch office.
:According to Catholic news, Bandipur resumed itsNotredame School. This is in good condition. We do hope it will get on the right track.