An Outline of 2003 Activities
In the year 2003, we will manage to raise:
1. 50,000-yen rent of Larigrans Day-care Center during 2004;
2. 10,000-yen milk fee for the children in Larigrans Day-care Center during 2004;
3. 30,000-yen eggs fee for the boarding pupils in ISH during 2004;
4. 20,000-yen remuneration of local volunteer activities (knitting instruction, teaching etc.);
5. 100,000-yen purchase of necessary item as gifts for field visits;
6. 150,000-yen field visit fund (including the cost price of Nepal goods);
7. 40,000-yen routine expense.
8. in late 2003 take the fund of item1-5 to the field and donate them.
.
2003 Fund Raising Plan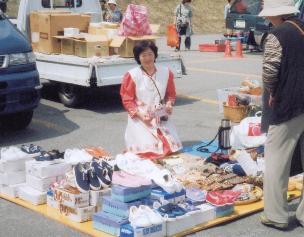 1. sales of Nepal goods……200,000 yen.
  Bazaar of Notredame Primary School
  Bazaar of Notredame Girls' Middle School
  Campus Festival of KyotoNotredame Women's College
  Bazaar of Catholic Church.
2. sales of patrons' handicrafts and hoarding items……50,000 yen.
  Flea Markets
  Garage Sales
3. Donations……60,000 yen.
  Individual Donations
  Kyoto Notredame Women's College Alumni Association.
4. Sales of Plateau Vegetables……150,000 yen
Activities prior to Late May:
  19,000-yen earnings at the flea market of Panorama Skiing Ground in Fushimi, Nagano Prefecture.
  Making plateau vegetables in Tateshina View Farm.
  30,000-yen receiving at Kyoto Notredame Women's Alumni Meeting on May 5th.1.